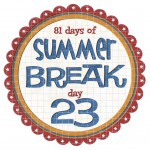 The boys got haircuts today. It was a morning appointment which was different for them. We usually go near the end if the day when there are fewer people.
Dad left Atlanta at 6 am. Andy is very happy. "I cannot wait until Poppa comes home."
POTD
I just realized I should get Jack a birthday gift. He is turning two and I am going to be shooting the pirate themed party. I wonder what I can find at Barnes & Noble or can I talk the boys into going to Toys R Us.
I ate lunch at Barnes & Noble. I love the roasted tomato caprese sandwich. I think they overheated this one. I found a Melissa & Doug toy,
Melissa & Doug Beginner Pattern Blocks
">Beginner Pattern Blocks, for Jack. B&N has a kids nook area. There are two tethered nooks on a short table with cushions. It reminds me of the Apple Store. Andy picked out Percy's Chocolate Crunch. He must have a half dozen copies of this book. Ryan found another Warriors book to add to his collection. Andy is walking around the store. He is easy to spot in his yellow shirt & hat.
Ryan was concerned about the darks clouds. He hates the rain and storms. I told him we would be OK. He asked how. I said I would keep him safe. He said OK.
We ran into some rain but Ryan stayed quiet. If he was upset, he didn't show it.
Dad called after 1 to say he would be here before 2. Andy was really excited. In the past, the boys hide when poppa comes. They wait until he is settled and things are quiet again before they come out. Today, Andy kept checking the time and looking out the window. When poppa finally arrived, Andy told me he was here. I told Andy to open the door and say hi. He did and was practically bouncing up and down. He let poppa hug him and helped us carry some of the numerous bags.
I finished purging July 2008 photos.
August 2008 POTD
.
Card of the day
.
Ryan was concerned about the storms that have been threatening. We'd get a lot of thunder and little rain then it would stop for a while. It had stopped for his bath then started again. Andy thought he could skip his bath. I said no. There is only rain and not thunder. It is not that safe to bathe while there are sever thunderstorms. Ryan has taken that to me any rain or thunder. And Andy will skip his bath if Ryan skips his. But with them getting haircuts, they both needed to wash their hair.