I am a fan of
Rick Sammon
. He has such energy that it's hard not to get excited about what he is talking about. When the opportunity came to sign up for a workshop of his in Tampa, I did not hesitate. I had a choice if going to Photography Day of listening to Rick speak for 3 hours or a full day workshop. I chose the workshop.
I do like HDR photography but maybe not for a whole day. I was glad when he said we would be working on other stuff besides HDR.
There were quite a few people and I didn't want to tag behind Rick like a groupie. I wandered off and found Sherry. We wandered about and took silly pictures of each other.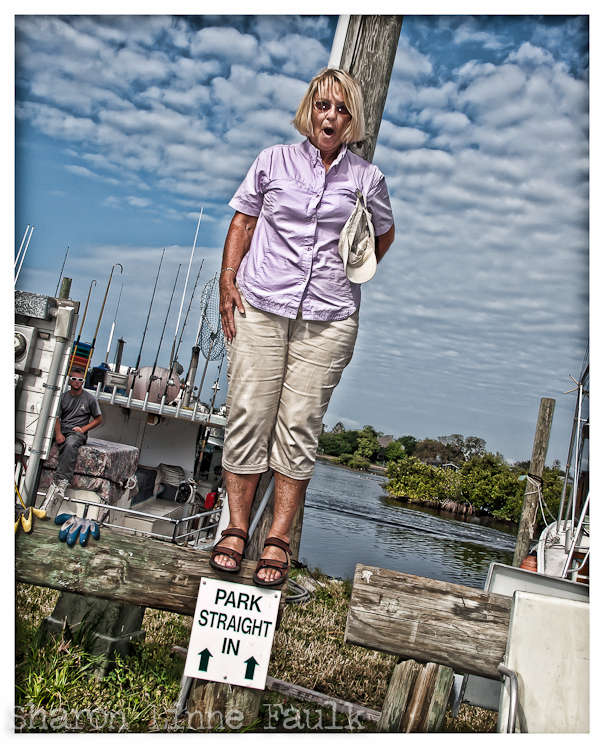 We wandered back to the center of the town and found the rest of the group. We sat and listened to a father & son singing duo and Rick asked if we could get closer and take more photos. It was hard to get close. Every time I tried, I got cut off but another photographer. It got annoying.
We had lunch at Hellas. I had pastitio which was very good. And lots of iced tea.
After lunch, we had had a lesson in flash photography. Before we started, Rick asked everyone what was the best thing that they learned today. I could not think of anything and tried to hide. He called me out and still I could not think of anything. I have heard all this before by reading his books and listening to his podcasts.
I had hoped to learn something about fill flash. But the lesson wasn't very clear. Or maybe I was too full from lunch.
Rick bounced around after that looking for interesting people to shoot. I didn't get many shots of them. I couldn't bring myself to push my way in. I could never be paparazzi.
We were done by 3. I really wanted a drink and talked a few into joining me. We went to Crabby Bill's and I had 3 margaritas. I didn't feel any effects from them. Weak and expensive booze.
I got home after 5. I put my photos in to upload and felt my back start to spasm. Must be all the carrying, bending and lifting I did all day. It was probably worth it as long as the pain doesn't last too long.
[gallery]