We could have just stayed home but I don't want Ryan to get lazy. He will happily stay home and watch TV and play on the computer. I let him choose where we went. He chose Lake Park.
We left at 10:30 and when we got there, it was busy. Instead of stopping at the playground, we continued to the back. There is another playground, but it is older and meant for smaller kids. We drove some more and saw some guy setting up a remote satellite. We saw someone unloading horses from their trailer. We saw someone racing his RC vehicle around the dirt track.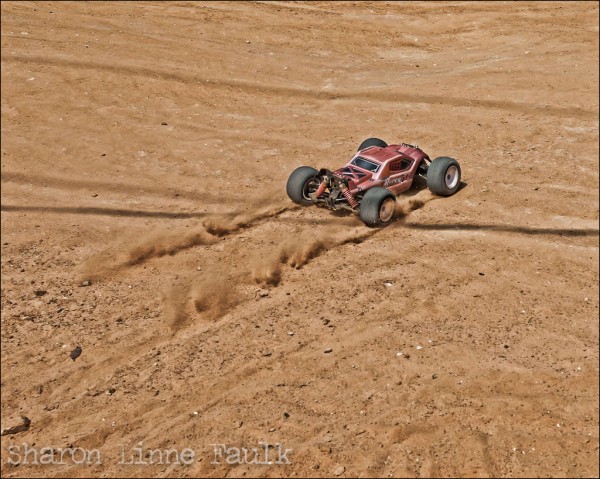 We parked the car and got out. There was only one person on the track. I took photos. The boys walked around. Ryan liked it. It was car racing but at a scale he could tolerate. The noise was not too much. I took hundreds of photos hoping to get a few good shots. This was a new type of shooting for me. Tracking small vehicles is not that easy. I didn't even try any panning.
Ryan got bored so we went to the big playground. It was still crowded. They rent canoes now for $25 for 4 hours. I asked Ryan but he said no. Fine with me, I really didn't want to see any snakes or alligators. Though the Do Not Molest the Alligator sign is gone so maybe I only have to worry about snakes. Yuck.
There is a new gazebo. It makes for a nice spot for photos. I wonder if Victoria might like it. It is probably busy on the weekends with other photographers.
The playground was filled with little kids. I am sure most were wondering why my kids were there. Ryan was crawling under the plateau and looking up. A woman assumed he was looking up under the girls' dresses (There were a lot of girls in dresses) and got angry at him and me. I explained to Ryan not to do that but didn't explain to the woman about Ryan. Sometimes I just don't have the energy. (This week has been very low energy.)
When Ryan was bored, we left. We went to McDonald's & Chick Fil A then home. We went home Dale Mabry to Lutz Lake Fern to US 41 to Newberger Road to Livingston to County Line to Stetson. The homes along Newberger were large and very nice. I had never been that way.
I spent 2 hours going through the hundreds of photos. Andy stayed in his room mostly. He has been keeping the floor picked up and I am very happy about that.
[gallery]