Doyle and I had been talking about doing some weekday photowalks. Because we both have kids in school, evening and weekend walks didn't always work out. We tried to start out weekly Friday meet-up last week but Doyle got a paying gig and we didn't have that much time to plan so we started last week.
We had 6 people RSVP including Doyle and I. Only 1 person didn't show and she was sick. Two of the photographers were new to me. I liked having a small number as crowds intimidate me. I think it's best that Doyle and I are co-hosting these. I can handle the planning and posting and he can handle talking to people.
I had never been to the Tampa Friday Market. I thought I had missed it all these years but found that this is only their second year. It's still small but the vendors all have great stuff.
I am not sure what it is by my photos are mostly awesome. Well, they are crisp and clear and in focus without a bunch of noise. My camera just doesn't like to shoot low-light. Today, in the bright sun, my camera was in heaven.
After a couple hours of playing with my computer and photos, it was time to leave again. This time for a nighttime photowalk at Clearwater Beach. And this one was all about learning to use your flash. See, I got the flash at the end of December but hadn't even mounted it to the camera yet. I needed a reason to actually purchase the rechargeable batteries and learn to use the camera.
The walk was scheduled at 6 pm which I thought was good because it meant I could see Ryan get home before I left. But this meant I would be driving through rush hour. About 15 into the drive, I realized that I had forgotten my tripod. I didn't want to be late so I didn't turn back. I decided that using the flash I wouldn't need a tripod.
Traffic was awful. The hour drive took me an hour and a half. Along the way I realized how stupid this whole trip was. Ryan wants me home by bedtime which is 8:30. I need to leave by 7:15 to get home in time. All that driving for an hour of shooting? Either I will skip the evening photowalks or have a talk with Ryan.
I did arrive about 15 minutes late. But with most photowalks, they get started late so I didn't miss much. I did some shooting with my flash. It wasn't great. My camera does not allow me to use the flash wireless except in manual mode. I have yet to get a flash sync cable ($50) or a bracket so I was stuck with it on the camera. But I learned to play with the settings a bit. And really, I needed that push.
The sunset was nice and I wished I had my tripod. I tried using the pier railing for stabilize the camera but I couldn't aim it the way I wanted to. Maybe I need to get a bean bag to leave in the car, just in case.
It was cold! The temperature was about 50 but the wind was strong. My hands were freezing! The only gloves I had are too bulk to use with a camera.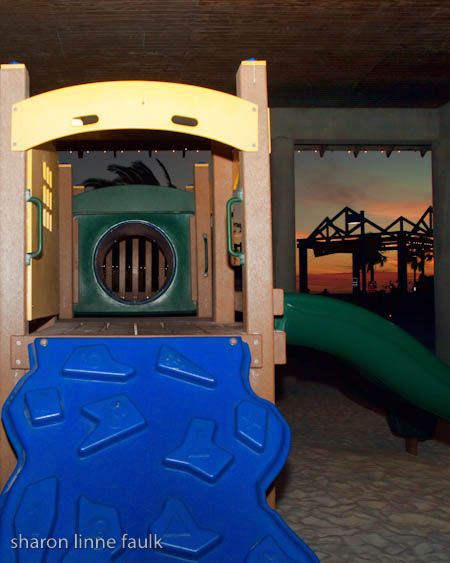 I hadn't been to Clearwater beach in about 8 years. I am not much of a beach person, the sand, the wind, the salt water is all too much. But I would like to go back and shoot more. I asked Sherry is she would like to go for a Friday photowalk but she just stared at me. She would prefer to stay in Hillsborough since she does stuff with the other photo group. So I may try to go for another Friday evening photowalk. But I will go early and do some of my own shooting. So if I have to leave early, it won't feel so short.
I have uploaded a lot of my photos from the morning photowalk to the gallery at meet-up. I still have more to process. I only had 10 decent shots from the evening photowalk. And only a few I even processed. Still needs lots of practice with my flash.