7:18 Well, heck! So much rain yesterday and it looks like it will continue today. So no gardening. I guess I can get some cleaning down inside.
9:35 I tackled the lanai today. My dad uses it as his workroom and leaves all kind of crap on my potting bench. I threw away too large and heavy bags full of trash. I am not blaimless here. There were some dead plants I finally got rid of. I need to get some plastic boxes so dad can store his stuff without the rain seeping in. The galvanized boxes looked nice but aren't all that practical as they can hold water. I moved a metal planting rack to the front door. It just fits and I am thinking I may move it back. I would like some annuals by the front door. I would be more likely to take care of them if I see them everyday and they can be easily changed with new flowers.
10:51 Taking a break from all my domestic accomplishments. OK, it wasn't that many but comapred to my recent days of sloth... I made some popsicles, took photos, made a pound cake, changed the laundry and took a shower.
It's still gray outside but the rain has stopped for now.
3:06 My pound cake failed. It came out easy enough and when I flipped it back over, I noticed batter leaked out! So I put it back in the oven for another 15 minutes. I thought it might be the glass pan versus metal. I have seen some recipes where it makes a difference. But it wasn't the material but the size. This glass pan is only 8"x4 1/2" instead of 9"x5". If I had known, I could have not poured as much batter into the pan. But it's too late now and I don't have enough eggs for another loaf. Let me tell you, the parts that did cook were SO tasty! I will be making it again.
Now I have to figure out what to make. I don't feel like cookies, they take too long. Brownies? Bar cookies?
5:36 Brownie cupcakes are in the oven. I used a recipe from Martha. It called for 11 ounces of semi-sweet chocloate broken up. A bag of semi-sweet chips is 11 ounces. Why didn't it just say a bag of chips? I had a taste of the batter but it did nothing for me. What?! I think it may have something to fo with me eating the top of the pound cake which did cook. Oh I felt a bit illafterwards and have wanted nothing since.
Yes, it's still raining.
6:02 Good grief! The cupcakes all fell. I give up.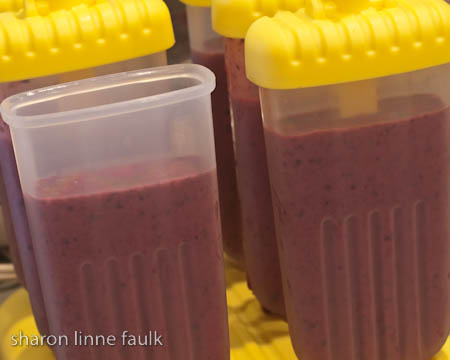 9:32 At least the popsicles came out OK. I might add some more orange juice next or some more sugar. And I want to try some more flavors.