Apparently summer break is like Christmas because Ryan starts stirring at 3:40 am. He wakes me up but manages to back to sleep for an hour. I cannot sleep and know it's going to be a
long
day.
Rain threatens in the morning. Not a good start since Thursday is pool day. There are sprinkles as we left the garage but the boys want to go.
The pool locks are set on a timer. MPII is nuts with technology & security. There is a water aerobics group that meets Tuesday, Thursday & Saturday and there are several members waiting in their cars. The sprinkles continue but the sun was out too. Finally we see the lifeguard come out and ladies go in so we know the pool is open.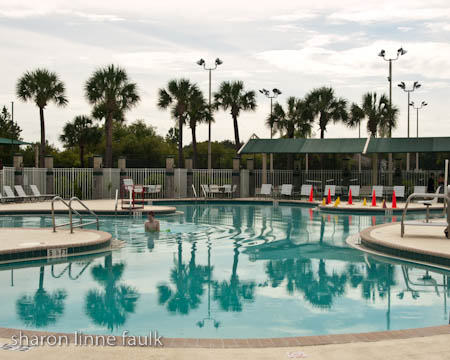 The MPII Newsletter mentioned free wifi at the pool. I look but only saw a secured network. It doesn't surprise me and I go to ask for the password. I am told that there should be an unsecured network but it doesn't show and no one knows how to check.
Last year, I brought magazines to read as it wasn't so easy to read my Palm in the glare. The iPod is better but I don't have anything good to read.
The boys play together for a while. Then the water aerobics group moved to a shallower part of the pool and Andy joins them. He loves to exercise.
Ryan finishes his swim after 45 minutes. Then he takes my camera and walked around shooting photos of signs. Anything with words or numbers. Once Ryan leaves to get dressed, Andy knows it's time to get out. Ryan & I take the stuff to the car and Andy comes out when he is dressed.
Next on our agenda is lunch followed by the chiropractor. We stop at Wendys for fries for Ryan. Andy gets small fries to hold him over for the 2 mile drive to Chick Fil A. I order a chargrill chicken deluxe for me and a #5 8-count for Andy. I don't get fries for myself so I take one of his before I pass them back.
We make it to the chiropractor with no time to spare. But they don't hold appointment times in stone. The boys want to wander around and check things out and I try to control them. Andy does NOT want an adjustment today.
Our last stop is Publix
where shopping is a pleasure
except when you have your kids with you and they want to go off in 2 different directions. Ryan pushes the grocery cart and I am tense the entire time because he thinks it is fun to crash into things and people. He does well this time, meaning nothing was hurt nor damaged, and we are done in 30 minutes.
Once we are home I have to remind them to help with the groceries. I can complete the job in less time by myself but they need to learn.
It rains on and off the rest of the day and the boys play with their computers and iPods and are good this first day.
79 more days to go.